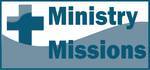 Jude: Ungodly!
by Bob Young
[permission is given to reprint with credit noted]
Reading: Jude
Text
They are godless men, who change the grace of our God into a license for immorality and deny Jesus Christ our only Sovereign and Lordů.See, the Lord is coming with thousands upon thousands of his holy ones to judge everyone, and to convict all the ungodly of all the ungodly acts they have done in the ungodly way, and of all the harsh words ungodly sinners have spoken against him. (Jude 4,15)
Reflecting and Thinking
Little doubt about Jude's concern. He had first wanted to write about the faith entrusted to God's people; I presume he hoped to encourage his readers. But he decided that he needed to write about godlessness. Godlessness is rooted in misunderstanding Jesus and using grace as an excuse rather than a blessing. When ungodliness takes hold, it overpowers. Ungodly people commit ungodly acts in ungodly ways and speak ungodly words against God himself. Ungodliness is rooted in denying God and Christ. Ungodliness is subtle, because the denial is not always in word, but can be in action. One definition of sin is "acting as though there were no God."
What are some of the other fruits of ungodliness, according to Jude? Carefully examine this little chapter for references to division, instinctual actions, Spirit-less lives. How is it possible that such influences can infiltrate the church? How should this chapter guide our prayer lives?
Prayer
Dearest Father, give us hearts of mercy, especially for those who doubt. Give us hearts of compassion for those who are in danger; help us find strength for the rescue and heaviness of heart for those in danger. May we know a holy fear of the things that could wreck our lives. We depend on you for security when we would fall and for lifting up when we are not so glorious. Through Jesus Christ our Lord-glory, majesty, power, and authority, we pray, Amen.
---


http://www.bobyoungresources.com/devotionals/26-jude_ungodly.htm Last updated March 26, 2011