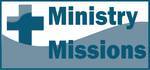 3 John: Joy and Faithfulness
by Bob Young
[permission is given to reprint with credit noted]
Reading: 3 John
Text
It gave me great joy to have some brothers come and tell about your faithfulness in the truth and how you continue to walk in the truth. I have no greater joy than to hear that my children are walking in the truth. (3 John 3-4)
Reflecting and Thinking
The third letter of John was written to a Christian named Gaius, probably a convert of John, based on the text. That Gaius is faithfully following Christ is a source of great joy for John. Further, being a faithful servant is not just for those we know-we can love and serve those we do not know. The servant spirit is essential, but in some places it is far from alive and well. In fact, John is concerned about a Christian named Diotrephes who appears to be the opposite of Gaius. He is malicious, a gossiper, an isolationist, a bossy controller, and an opponent of good works. Evil can be recognized, as can good. John urges Gaius to imitate what is good.
Thinking about the relationship between Gaius and John, if you are Gaius, who is your John? Have you said thank you lately? How could you be a more faithful servant to other Christians? What does it mean in your life to walk in truth?
Prayer
Dear Father, help us connect joy and faithfulness in our lives. Sometimes the world tells us that joy comes from other sources. The connection between joy and faithfulness sometimes seems weak. Strengthen our commitment to good, and help us avoid evil. May our evil evidence that we are yours, we pray in Jesus' name, Amen.
---


http://www.bobyoungresources.com/devotionals/25-3john_joy-faithfulness.htm Last updated March 26, 2011