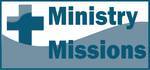 1 John 1: A Sure Message of Hope
by Bob Young
[permission is given to reprint with credit noted]
Reading: 1 John 1
Text
This is the message we have heard from him and proclaim to you, that God is light, and in him is no darkness at all. If we say we have fellowship with him while we walk in darkness, we lie and do not practice the truth. But if we walk in the light, as he is in the light, we have fellowship with one another, and the blood of Jesus his Son cleanses us from all sin. (1 John 1:5-7)
Thinking and Reflecting
Some people have turned the good news into bad news. A word of hope has become a word of doom, a word of forgiveness a word of doom. A word of certainty has become unsure. The message must be restored. Christian living depends on understanding the message (truth) and practicing it. Our certain hope is that Jesus' blood cleanses us and keeps on cleansing us from all sin.
How often we try to deserve forgiveness, how often we try to earn it, merit it, and guarantee it. Have you ever struggled with the certainty of forgiveness? When you feel least forgiven? When has forgiveness felt certain? When Jesus who is the light (remember John's Gospel) walks beside us, it is certain that we walk in light. We have fellowship and forgiveness.
Prayer
Father God, help us find certainty in this world of doubt. Let us confidently affirm the truth that is Jesus. Walk beside us, teach us faith, may we celebrate the continual cleansing of Christ's blood. In Jesus' name and by his power I ask it. Amen.
---


http://www.bobyoungresources.com/devotionals/23-1john1_sure-message-hope.htm Last updated March 26, 2011