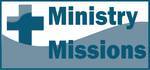 Hebrews 7
A Better Priest
by Bob Young
[permission is given to reprint with credit noted]
Today's Bible Reading: Hebrews 7
Selected Biblical Text
He became a priest with an oath when God said to him: "The Lord has sworn and will not change his mind: 'You are a priest forever.'" Because of this oath, Jesus has become the guarantor of a better covenant. Now there have been many of those priests, since death prevented them from continuing in office; but because Jesus lives forever, he has a permanent priesthood. Therefore he is able to save completely those who come to God through him, because he always lives to intercede for them. Such a high priest truly meets our need -- one who is holy, blameless, pure, set apart from sinners, exalted above the heavens. Unlike the other high priests, he does not need to offer sacrifices day after day, first for his own sins, and then for the sins of the people. He sacrificed for their sins once for all when he offered himself. For the law appoints as high priests men in all their weakness; but the oath, which came after the law, appointed the Son, who has been made perfect forever. (Hebrews 7:21-28 NIV)
Reflecting and Thinking
The selected text for today provides a good summary. Jesus was declared an eternal priest by God. The Old Testament quotation is from Psalm 110:4. The promise of Psalm 110 comes after the Old Testament law given in Exodus and therefore supercedes it. The result is a better covenant, complete salvation, and Jesus' intercession on our behalf. These are possible because Jesus serves as a high priest based on his sinless perfection, his perfect sacrifice, his strength, and his position as Son of God.
What kind of confidence ought we to have knowing that we have perfect and complete access to God's throne through Jesus our High Priest? What does it mean to your confidence that Jesus intercedes on your behalf?
Prayer
Dear God, today we come with renewed boldness, not because we are good, but because of your promise that Jesus intercedes for us, that when we come through him we come with sins forgiven, and that our access and relationship do not depend on our own perfection. Thank you again for this marvelous gift, in Jesus' name, Amen.
---


http://www.bobyoungresources.com/devotionals/19-heb7_better-priest.htm Last updated January 23, 2019