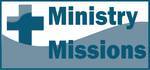 Hebrews 4
A Merciful High Priest
by Bob Young
[permission is given to reprint with credit noted]
Today's Bible Reading: Hebrews 4
Selected Biblical Text
Therefore, since we have a great high priest who has ascended into heaven, Jesus the Son of God, let us hold firmly to the faith we profess. For we do not have a high priest who is unable to empathize with our weaknesses, but we have one who has been tempted in every way, just as we are -- yet he did not sin. Let us then approach God's throne of grace with confidence, so that we may receive mercy and find grace to help us in our time of need. (Hebrews 4:14-16 NIV)
Reflecting and Thinking
A word of warning as we begin today -- let us be careful not to miss the point because of the complexity of the writer's train of thought. The chapter begins with lots of details -- the unfulfilled promise of rest, the importance of hearing the gospel by faith, the problem of disobedience. Against this background, we usually read the text of 4:12-13 as a threat -- God knows everything about us, the word lays bare and judges our thoughts, nothing is hidden from God, and all must give an account. In the context, however, one must at least consider the possibility that the words of 4:12-13 are designed to give comfort. In the midst of the challenges of this life, with the incredible promise of God as the source of our hope, should we not be grateful that God understands our hearts? Should we not be grateful that he is aware of our weaknesses and has nonetheless provided us confident access to the throne of grace where we find strength and help just when we need it most?
Our need is for both a faithful high priest who in fulfilling his priestly responsibilities on our behalf provides for us atonement, and for a merciful high priest who understands our sin dilemma, our weaknesses, our temptations, and our need for grace, mercy, and support. Summarizing the book of Hebrews to this point, we have learned that in Jesus Christ, we have exactly what we need. He provides us access to God because he is Son of God (chapter 1), but he also identifies with God's human creation as Son of Man (chapter 2). This uniquely qualifies him as faithful high priest (Chapter 3) and merciful high priest (Chapter 4). As you think today about the beauty of God's plan, take a few moments to contemplate these two unique aspects of Christ's nature, and think about how he understands us and has access to God to intercede for us.
Prayer
Heavenly Father, we cannot but marvel at the wisdom and beauty of your plan for us as frail human creation. Most days, we desperately feel the separation and distance in our human experience, and we are grateful for the promise that Jesus walks beside us, understands our needs, is able to nourish us, and provides prayer access to your throne of grace and forgiveness. Thank you for hearing us today, in the name of Jesus who is the Christ, the one explains everything, Amen.
---


http://www.bobyoungresources.com/devotionals/19-heb4_merciful-high-priest.htm Last updated January 23, 2019