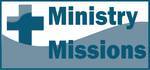 Hebrews 11
Examples of Faithful Endurance
by Bob Young
[permission is given to reprint with credit noted]
Today's Bible Reading: Hebrews 11
Selected Biblical Text
These were all commended for their faith, yet none of them received what had been promised, since God had planned something better for us so that only together with us would they be made perfect. (Hebrews 11:39-40 NIV)
Reflecting and Thinking
Today's reading is familiar and well known. Some call it the "Faith Chapter." Others refer to it as the "Hall of Faith." We celebrate the Old Testament examples of faith. The pattern becomes automatic, "by faith." Those who are mentioned could not see what is now visible. They did not receive what was promised. They led the way; they provide us examples of faith; they persevered despite the obstacles they faced -- obstacles that have now been overcome in Jesus. These Old Testament heroes are now a part of us; or better said, we are a part of them. We are sharing together the victory.
Can you imagine what it would have been like to have lived in difficult times during the Old Testament? What does it mean for you to faithfully endure? How long does God want us to endure? What has God provided so that we can endure?
Prayer
Heavenly Father, we are amazed at the perseverance of those who lived by faith before Jesus came. We so much want to see; it is hard for us to imagine living faithfully when we cannot see. Help us grow in faith -- in our confidence in your existence, and in our confidence in your reward for diligent seekers. Thank you for Jesus, in His name we pray, Amen.
---


http://www.bobyoungresources.com/devotionals/19-heb11_faithful-endurance.htm Last updated January 23, 2019