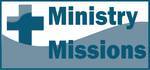 2 Timothy 1: A Ready Spirit
by Bob Young
[permission is given to reprint with credit noted]
Today's Bible Reading: 2 Timothy 1
Selected Biblical Text
I thank God, whom I serve, as my ancestors did, with a clear conscience, as night and day I constantly remember you in my prayers. Recalling your tears, I long to see you, so that I may be filled with joy. I am reminded of your sincere faith, which first lived in your grandmother Lois and in your mother Eunice and, I am persuaded, now lives in you also. For this reason I remind you to fan into flame the gift of God, which is in you through the laying on of my hands. For the Spirit God gave us does not make us timid, but gives us power, love and self-discipline. So do not be ashamed of the testimony about our Lord or of me his prisoner. Rather, join with me in suffering for the gospel, by the power of God. (2 Timothy 1:3-8 NIV)
Reflecting and Thinking
Few things are of greater value in ministry and Christian service than a ready spirit. Reading between the lines of Paul's letter, some have presumed that Timothy was hesitant or timid. Paul reminds Timothy of his strong heritage of faith, that others have believed in him, and that God bestows a spirit of power, love and self-discipline. A ready spirit will be prepared to testify, even in the face of sufferings. A ready spirit comes from confidence in God's faithful mercy. A ready spirit accepts God's gift, guards it, and lives it out daily.
As a Christian, are you always ready to serve? What are some of the areas in which you are hesitant? What would it take for you to overcome your hesitation? Read again Paul's encouragement to Timothy. Personalize the message and consider how God has blessed you to prepare you for ready service. Evaluate the presence of God's blessings in your life, and pray for strength.
Prayer
Father God, we depend on ourselves when we should depend on you. Help us find confidence as we enumerate the blessings we have received from your hand. Bring into our lives a new awareness of your purpose and grace, and help us hear and answer your call. Thank you for the Holy Spirit who lives in us. May his presence strengthen our lives, and may we be ready always, in Jesus' name, Amen.
---


http://www.bobyoungresources.com/devotionals/16-2tim1_ready-spirit.htm Last updated January 23, 2019