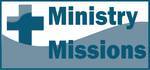 1 Timothy 4: Integrity in Ministerial Leadership
by Bob Young
[permission is given to reprint with credit noted]
Reading: 1 Timothy 4
Text
Don't let anyone look down on you because you are young, but set an example for the believers in speech, in conduct, in love, in faith and in purity. Until I come, devote yourself to the public reading of Scripture, to preaching and to teaching. Do not neglect your gift, which was given you through prophecy when the body of elders laid their hands on you. Be diligent in these matters; give yourself wholly to them, so that everyone may see your progress. Watch your life and doctrine closely. Persevere in them, because if you do, you will save both yourself and your hearers. (1 Timothy 4:12-16)
Reflecting and Thinking
This charge to Timothy concerns his personal life in ministry. Ministers who serve with integrity consider their example, their preaching and teaching of the Scriptures, their diligence, and their personal lives. While the passage is primarily about ministers, the principles apply to every Christian. All Christians can minister to those around them, and the same principles apply. We will not reach out and touch others for Jesus until our own personal lives are changed by him.
Paul urges Timothy not to neglect his gift. What gift has God given you to serve others? On a scale of 1 to 10, how would you measure your diligence? your wholehearted commitment? your progress? Thought question: Do your friends and your enemies describe you in the same way?
Prayer
Our God and Father, holy be your name. Help us be people of integrity. Help that integrity be an influence on those we now and serve. Help me be more diligent in action, more faithful in perseverance, and more concerned about others. In the name of Jesus, the one who demonstrated the greatest love through his sacrifice, Amen.
---


http://www.bobyoungresources.com/devotionals/15-1tim4_ministry-integrity.htm Last updated March 26, 2011