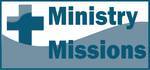 1 Timothy 1: Protect and Proclaim the Gospel
by Bob Young
[permission is given to reprint with credit noted]
Today's Bible Reading: 1 Timothy 1
Selected Biblical Text
Now to the King eternal, immortal, invisible, the only God, be honor and glory for ever and ever. Amen. (1 Timothy 1:17 NIV)
Reflecting and Thinking
This chapter instructs Timothy regarding his tasks in ministry, especially as they relate to the gospel message. Following an introductory purpose statement, Paul breaks into a brief autobiography in which he celebrates God's grace poured out in his life in the midst of his sinfulness. Faith and love can be developed in the worst of sinners because Christ's patience is greater than the human predicament. This is good news indeed! Paul cannot help but break into praise. Paul's apostleship was dedicated to protecting and proclaiming the gospel, precisely because it had made all the difference in Paul's own life.
When have you been so overcome by your own weakness that you broke into praise to God for his strength in the midst of your human failures? Do you think that a greater awareness of sin would motivate you to speak more often on behalf of the gospel? What do you think Paul had in mind when he urged Timothy to hold on to faith -- how does one do that?
Prayer
Heavenly Father, we pray for your help and strength as we overcome daily -- overcoming our past, overcoming our weaknesses, overcoming our disappointments, overcoming our tendency to disbelief. We praise you this day, in Jesus' name, Amen.
---


http://www.bobyoungresources.com/devotionals/15-1tim1_protect-proclaim-gospel.htm Last updated January 23, 2019