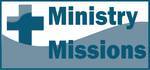 Colossians 4: Proclaiming Jesus
by Bob Young
[permission is given to reprint with credit noted]
Today's Bible Reading: Colossians 4
Selected Biblical Text
Devote yourselves to prayer, being watchful and thankful. And pray for us, too, that God may open a door for our message, so that we may proclaim the mystery of Christ, for which I am in chains. Pray that I may proclaim it clearly, as I should. Be wise in the way you act toward outsiders; make the most of every opportunity. Let your conversation be always full of grace, seasoned with salt, so that you may know how to answer everyone. (Colossians 4:2-6 NIV)
Reflecting and Thinking
Much of the last chapter of Colossians is devoted to greeting various persons in the church at Colossae. In our brief selected text, Paul seems to have one focus -- the proclamation of the gospel. Pray for open doors for the message, pray for our proclamation, pray for clarity, pray to be able to answer everyone. Proclamation is supported by lifestyle. Our words lose power when our lives do not match. Here is Paul's echo of 1:28 -- our goal is to proclaim him!
Colossians is usually characterized as a Christ-centered book. How many different descriptions of Jesus do you remember from the book? (Review the book briefly if you need help in answering.) Which are most significant for you in your life at this time? How is God calling you to change your life as a result of your commitment to Jesus?
Prayer
Thank you, Father, for taking care of what we could never handle in our own lives by our own power. Thank you for Jesus. May our lives reflect him, may our lips proclaim him, may our actions bring him to life so that others can see him. We pray for the spread of the gospel, and we ask you to help us see how we are a vital part of your eternal plan to bring others to Jesus, in His name, Amen.
---


http://www.bobyoungresources.com/devotionals/12-col4_proclaiming-jesus.htm Last updated January 23, 2019