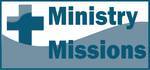 Colossians 1: Jesus Is Our Connection with God
by Bob Young
[permission is given to reprint with credit noted]
Today's Bible Reading: Colossians 1
Selected Biblical Text
The Son is the image of the invisible God, the firstborn over all creation. For in him all things were created: things in heaven and on earth, visible and invisible, whether thrones or powers or rulers or authorities; all things have been created through him and for him. He is before all things, and in him all things hold together. And he is the head of the body, the church; he is the beginning and the firstborn from among the dead, so that in everything he might have the supremacy. For God was pleased to have all his fullness dwell in him, and through him to reconcile to himself all things, whether things on earth or things in heaven, by making peace through his blood, shed on the cross.
Once you were alienated from God and were enemies in your minds because of your evil behavior. But now he has reconciled you by Christ's physical body through death to present you holy in his sight, without blemish and free from accusation-if you continue in your faith, established and firm, and do not move from the hope held out in the gospel. This is the gospel that you heard and that has been proclaimed to every creature under heaven, and of which I, Paul, have become a servant. (Colossians 1:15-23 NIV)
Reflecting and Thinking
From the beginning -- or at least from Genesis 3 onward -- humankind has struggled with the question of how to reconnect with God. The truth is this: reestablishing the God-connection is impossible with merely human efforts or plans. God is the great Repairer of the relationship that was broken by sin; he is not only Creator, his is also Re-creator. These basic truths stand behind Paul's description of Jesus' role. Jesus is the visible image of the invisible God; he is creator, reigning one, reconciler and redeemer.
When have you observed human beings wanting or trying to connect with God on their own terms or by their own efforts? Try to put into your own words the significance of Paul's affirmation about Jesus. Paul described the reconnection with God in terms of persevering (continuing) in faith, being established and firm, and being hopeful. What would you say to someone who says they want to reconnect with God but does not seem serious enough to continue faithfully?
Prayer
Heavenly Father, we are overwhelmed at times by our separation from you, by the distance we experience as we see the influence of this world in our lives. Today we praise you and give you thanks for Jesus as the one who reveals you and makes you known to us. We are grateful for his powerful work and words in creation, in holding things together, in leading the church, and in providing redemption and reconciliation so that broken relationships can be healed. May we be faithful servants, and faithful proclaimers of the good news, In Jesus' name, Amen.
---


http://www.bobyoungresources.com/devotionals/12-col1_jesus.htm Last updated January 23, 2019