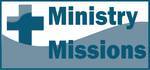 Ephesians 3: God's Plan for Power
by Bob Young
[permission is given to reprint with credit noted]
Today's Bible Reading: Ephesians 3
Selected Biblical Text
I pray that out of his glorious riches he may strengthen you with power through his Spirit in your inner being, so that Christ may dwell in your hearts through faith. And I pray that you, being rooted and established in love, may have power, together with all the Lord's holy people, to grasp how wide and long and high and deep is the love of Christ, and to know this love that surpasses knowledge -- that you may be filled to the measure of all the fullness of God. Now to him who is able to do immeasurably more than all we ask or imagine, according to his power that is at work within us, to him be glory in the church and in Christ Jesus throughout all generations, forever and ever! Amen. (Ephesians 3:16-21 NIV)
Reflecting and Thinking
The shared life of diverse groups in the body of Christ, the church, is evidence of God's wisdom. We are heirs together, members together, and sharers together. This truth, which reflects God's eternal purpose to bring all things together in Christ, is powerful witness to the manifold wisdom of God. This shared life is one of Spirit power, Christ's indwelling, love, and God's energizing power within us, resulting in glory in the church and in Christ. The promise that He can and will do far more than we ask or imagine opens unbelievable doors of opportunity for every Christian.
Most days do you feel empowered or disempowered in your Christian life? What could make you more aware of God's power that is within you and is energizing you? Does the contemporary world see the glory of a church where multitudes of diverse people come together and share experiences as part of the body of Christ? Why or why not? Do most churches reflect this aspect of God's wisdom and glory, that is, do most churches include many different and diverse groups of people? Why or why not? What would you do if you thought it was definitely possible?
Prayer
Heavenly Father, thank you for taking care of us as individuals and as members together in the body of Christ, the church. Thank you for giving us access to your power. Thank you for working in us and through us. Help us to be faithful witnesses to your purpose and wisdom. May all the glory be yours, forever, in the church and in Christ Jesus, in His name, Amen.
---


http://www.bobyoungresources.com/devotionals/10-eph3_gods-plan-for-power.htm Last updated January 23, 2019