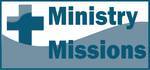 2 Corinthians 5: Ministering for Reconciliation
by Bob Young
[permission is given to reprint with credit noted]
Today's Bible Reading: 2 Corinthians 5
Selected Biblical Text
16 So from now on we regard no one from a worldly point of view. Though we once regarded Christ in this way, we do so no longer. 17 Therefore, if anyone is in Christ, the new creation has come: The old has gone, the new is here! 18 All this is from God, who reconciled us to himself through Christ and gave us the ministry of reconciliation: 19 that God was reconciling the world to himself in Christ, not counting people's sins against them. And he has committed to us the message of reconciliation. 20 We are therefore Christ's ambassadors, as though God were making his appeal through us. We implore you on Christ's behalf: Be reconciled to God. 21 God made him who had no sin to be sin for us, so that in him we might become the righteousness of God. (2 Cor. 5:16-21 NIV)
Reflecting and Thinking
In many places, the contemporary church finds itself involved in more and more ministries that do not directly connect with and do not contribute to reconciliation with God. God's eternal purpose in the world is focused in the reconciling death of Jesus for all humankind. Human thinking cannot fathom the immensity of God's plan. When Paul finally grasped the reality of the ministry of reconciliation and the possibility of newness in Christ, he cast aside the worldly (purely human) point of view. Not only is God at work reconciling us, he has given to us the ministry and message of reconciliation. We are messengers (ambassadors) who speak in such a way that it seems as though God is directly appealing through us. There are lots of ways we can be involved in ministry. Every day offers multiple options of activities for serving, ministering and helping others. We choose those options in the spirit of Jesus and seek to help others as we have opportunity. But above all, we pay attention to the opportunities we have for ministering to others as messengers of God's reconciliation. Paul's imploring call is clear (verse 20): Be reconciled to God! In light of this eternal need, nothing else matters.
What ministries of the church where you attend are focused on reconciliation with God? What ministries of the church may indirectly contribute to the ministry of reconciliation? What ministries of the church have little if any impact on the ministry of reconciliation? What are some reasons the contemporary church does not have a greater focus on ministering for reconciliation with God (evangelism with the express purpose of salvation)? How can you be more involved in ministering or serving in ways that help others toward reconciliation with God?
Prayer
Heavenly Father, help us develop the heart of Jesus. Help us develop the mind and attitude of Jesus who sacrificially gave himself for us, the sinless for the sinful, the holy for the unholy, the righteous for the unrighteous. Help us see others through a heavenly point of view that sees their spiritual needs, and not only through a human point of view that sees their physical needs. Help us be more concerned about the threat of spiritual death than about the threat of physical death. Help us grasp the constraining and compelling love of Jesus so that we might go forth as ambassadors in the ministry of reconciliation, through Jesus the Great Reconciler we pray, Amen.
---


http://www.bobyoungresources.com/devotionals/08-2cor5_reconciliation.htm Last updated January 23, 2019