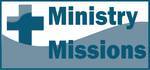 Romans 5: Justified by Faith....Much More!
by Bob Young
[permission is given to reprint with credit noted]
Today's Bible Reading: Romans 5
Selected Biblical Text
Therefore, since we have been justified by faith, we have peace with God through our Lord Jesus Christ. Through him we have also obtained access by faith into this grace in which we stand, and we rejoice in hope of the glory of God. Not only that, but we rejoice in our sufferings, knowing that suffering produces endurance, and endurance produces character, and character produces hope, and hope does not put us to shame, because God's love has been poured into our hearts through the Holy Spirit who has been given to us. For while we were still weak, at the right time Christ died for the ungodly. For one will scarcely die for a righteous person?though perhaps for a good person one would dare even to die?but God shows his love for us in that while we were still sinners, Christ died for us. Since, therefore, we have now been justified by his blood, much more shall we be saved by him from the wrath of God. For if while we were enemies we were reconciled to God by the death of his Son, much more, now that we are reconciled, shall we be saved by his life. More than that, we also rejoice in God through our Lord Jesus Christ, through whom we have now received reconciliation. (Romans 5:1-11 ESV)
Reflecting and Thinking
The great introductory chapters of Romans demand to be read as a unit. They should not be separated and we do some disservice to them by dividing them for daily devotional reading. Consider this summary. God's action in the gospel of grace has brought wrath to some and righteousness to others. All deserved wrath; but God intervened in Christ to provide justification (righteousness), redemption, and atonement through the faith of Christ. This righteousness did not depend on law and was declared (made known) apart from the law. It was based on the grace extended in the promise, and thus extends to all of Abraham's faithful descendants.
With these things in mind, Paul turns to the confidence that is possible through justification by faith. Faith brings peace, access, confident hope, and God's love. God's action in the gospel -- the death and life (resurrection) of Jesus -- saves from wrath. Whatever may be the circumstances apart from the gospel, the gospel answers every situation. Not only does it answer -- it answers "much more!"
Make a list of the blessings mentioned in today's text, the blessings that are available to the Christian based on justification by faith.
In depth: If you wish to study the remainder of the chapter in detail, take a piece of paper and record the contrasts and comparisons. You should be able to find at least seven. Hint: some of the comparisons are negative, ways two things are unlike rather than how they are alike.
Prayer
Heavenly Father, we are grateful that you acted on our behalf when we were undeserving, even before we were born. We do not understand your wisdom. Your gracious action made clear that we deserved and were destined for your wrath and spiritual death. We praise you that your gracious action in the gospel made possible our justification and reconciliation. Through Jesus we pray, Amen.
---


http://www.bobyoungresources.com/devotionals/06-rom5_much-more.htm Last updated January 16, 2019