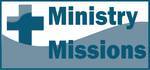 John 9: Developing a Faith that Empowers Spiritual Sight and Insight
by Bob Young
[permission is given to reprint with credit noted]
Today's Bible Reading: John 9
Selected Biblical Text
Jesus heard that they had thrown him out, and when he found him, he said, "Do you believe in the Son of Man?"
"Who is he, sir?" the man asked. "Tell me so that I may believe in him."
Jesus said, "You have now seen him; in fact, he is the one speaking with you."
Then the man said, "Lord, I believe," and he worshiped him.
Jesus said, "For judgment I have come into this world, so that the blind will see and those who see will become blind."
Some Pharisees who were with him heard him say this and asked, "What? Are we blind too?"
Jesus said, "If you were blind, you would not be guilty of sin; but now that you claim you can see, your guilt remains. (John 9:35-41 NIV)
Reflecting and Thinking
Here are two amazing things. Those who were blind can now see; those that could see are now blind. Spiritual blindness is a terrible thing, frightening because it is so hard to recognize. Today's reading, the story of the blind man healed by Jesus, is for many one of the more familiar chapters in the New Testament. If you do not know the story, I encourage you to read the entire chapter. Lots of people are blind (in some sense) in the story. In addition to the blind man (who is physically impaired), one can note the blindness of the disciples, the townspeople, the man's parents, and the Jewish leaders. The saddest lesson to be learned is that some people are intentionally blind.
Are you ever intentionally blind? Have you ever ignored an opportunity because you caught only a fleeting glimpse of a possibility? Have you ever failed to act on your better motives? Have you ever seen, only to quickly turn away? All of these situations can indicate spiritual blindness.
Prayer
Heavenly Father, help us see. Help us see what you want us to see. Help us so that we do not ignore your urgings, turn away from opportunities, or openly work against your involvement in this world. Give us spiritual insight to see and believe, to worship, and to act. We pray for your presence and help today so that we can see and act, in Jesus' name, Amen.
---


http://www.bobyoungresources.com/devotionals/04-john9_faith-and-sight.htm Last updated January 2019