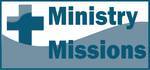 John 6: Dimensions of Faith: Physical or Spiritual?
by Bob Young
[permission is given to reprint with credit noted]
Today's Bible Reading: John 6
Selected Biblical Text
Jesus answered, "Very truly I tell you, you are looking for me, not because you saw the signs I performed but because you ate the loaves and had your fill. Do not work for food that spoils, but for food that endures to eternal life, which the Son of Man will give you. For on him God the Father has placed his seal of approval." (John 6:26-27 NIV)
Reflecting and Thinking
Living out the reality of spiritual faith in a physical world is not easy. The two realms get intertwined because we humans live in both realms simultaneously. Unfortunately, too often we begin to measure God by what we see and experience. The people in John 6 made the same mistake -- disciples who did not see a way to feed the people, fearful disciples, a sinking Peter on an uncertain sea, people who came back for more food, Jews who sought a military leader and a physical kingdom, Messianic Jews anticipating a Messiah in the image and heritage of Moses -- one who would restore the manna so that no one would ever hunger again. This is a chapter of misunderstandings, false hopes, and spiritual insensitivity. When Jesus says that following him requires spiritual connectedness (communicated in figures of speech that the Jews found repulsive, "chewing his flesh" and "drinking his blood"), many rejected him. There are still many who follow Jesus because of what they see and experience physically, with little interest in experiencing the full dimensions of the spiritual kingdom Jesus came to establish.
When has your faith become dependent on success in the physical realm? What do you think about Christians or churches that focus on externals more than internals? What could we do to participate more fully in the cause of Christ? How do we today "eat his flesh and drink his blood"? (The context of John 6 makes it highly unlikely that Jesus' use of these phrases had anything to do with the communion meal.)
Prayer
Father God, we seldom find our version of Christianity difficult. We wonder sometimes what we would do if it became hard to be a follower of Jesus. We wonder how we would respond to persecution; we wonder if we have an authentic understanding of faith in view of the Bible teaching that those who faithfully follow will suffer. Help us today to live out an authentic spiritual life in this physical world. Help us not to become overly enamored or impressed by that which is seen; help us to focus on what is unseen. We pray in the name of Jesus, who makes the invisible visible, Amen.
---


http://www.bobyoungresources.com/devotionals/04-john6_dimensions-of-faith.htm Last updated January 2019