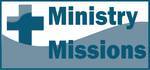 John 19: Faithful Testimony Leads to Faith
by Bob Young
[permission is given to reprint with credit noted]
Reading: John 19
Text
The man who saw it has given testimony, and his testimony is true. He knows that he tells the truth, and he testifies so that you also may believe. These things happened so that the scripture would be fulfilled: "Not one of his bones will be broken," and, as another scripture says, "They will look on the one they have pierced." (John 19:35-37)
Reflecting and Thinking
The man in our text is unidentified. Perhaps John is referring to himself. Perhaps he refers to another reliable witness. What matters is not who he is, but who Jesus is. The testimony reaches its climax in Jesus' death. It is now certain that these things are true. The foundations for belief are established. Scripture is fulfilled.
Is faith easy for you or is it hard? Does the testimony of the Bible carry weight with you, or do you wish for something more? Can you figure out the "why" to the first two questions? John writes so that people might believe. He writes that people might have faith, and thus have life.
Prayer
Heavenly Father, we barely understand the cruelty, pain, and suffering of crucifixion. We marvel at the immensity and complexity of your plan. We do not understand, but we accept by faith, because of who Jesus is. Increase our faith and trust. We pray in Jesus' name, Amen.
---


http://www.bobyoungresources.com/devotionals/04-john19_faithful-testimony.htm Last updated March 8, 2011