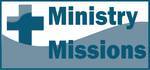 Luke 7: God's Way is Right
by Bob Young
[permission is given to reprint with credit noted]
Reading: Luke 7
Text
And when the men had come to him, they said, "John the Baptist has sent us to you, saying, 'Are you the one who is to come, or shall we look for another?'" In that hour he healed many people of diseases and plagues and evil spirits, and on many who were blind he bestowed sight. And he answered them, "Go and tell John what you have seen and heard: the blind receive their sight, the lame walk, lepers are cleansed, and the deaf hear, the dead are raised up, the poor have good news preached to them. And blessed is the one who is not offended by me." (Luke 7:20-23)
Reflecting and Thinking
In today's chapter, Jesus continues his ministry in the area around Galilee, healing a centurion's servant, raising the widow's son, sending an encouraging word to John the Baptist, and speaking forgiveness to a sinful woman. The response Jesus sends to John (see text above) is especially interesting. Not only does this story qualify as an identity narrative ("Are you the one who was to come, or should we expect someone else?"), it also reflects the introduction to Jesus' ministry from the reading in the synagogue (4:18-19). The diseased, sick, possessed and blind are cured. The blind see, the lame walk, the lepers are cured, the deaf hear, the dead are raised, the good news is preached. For this, Jesus came! Two responses are possible: some fall away because of Jesus; others cling more closely because of Jesus. Jesus pronounced a blessing on the one who abides.
The title of today's devotional comes from 7:29. The people acknowledged that God's word was right, because they had been baptized by John. The opposite attitude is reflected in v. 30: the Pharisees rejected God's purpose for themselves, because they had not been baptized by John. Two different results are described, apparently based on whether one had received and accepted the words of the Forerunner. How important is it that we be pliable when God's word comes to us? Why do some people today not acknowledge that God's way is right? How do these verses supply a commentary of explanation of what continues to occur today? Based on these verses, what would you do to help someone whom you wanted to acknowledge God's way as right? What would you say? What information would you share? What would you teach?
Prayer
Dear God, thank you for blessing our lives with faith. Thank you for helping us to see when we were blind and unseeing. Keep me near to you; keep me from falling. Help us to imitate the attitude of Jesus as we go forth with the power to touch, influence, and alter lives. May we help others toward faith. In Jesus' name, Amen.
---


http://www.bobyoungresources.com/devotionals/03-luke7_gods-way-is-right.htm Last updated June 3, 2011