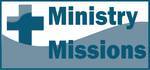 Luke 5: Mountaintop Prayer -- Power for the Marketplace
by Bob Young
[permission is given to reprint with credit noted]
Today's Bible Reading: Luke 5
Selected Biblical Text
But now even more the report about him went abroad, and great crowds gathered to hear him and to be healed of their infirmities. But he would withdraw to desolate places and pray. On one of those days, as he was teaching, Pharisees and teachers of the law were sitting there, who had come from every village of Galilee and Judea and from Jerusalem. And the power of the Lord was with him to heal. (Luke 5:15-17 ESV)
Reflecting and Thinking
Luke describes the first phase of Jesus' ministry as centered in the region around Galilee (4:14-9:17). In the synagogue Jesus declares that he has come to help people (4:18-19, quoting Isa. 61:1-2). The synagogue narrative is followed immediately by a staccato series of "people stories" -- driving out an evil spirit, healing Simon's mother, healing many others, calling disciples, healing a leper, healing a paralytic, and calling Matthew Levi.
Today's text (5:15-17) introduces a continuing rhythm of Jesus' life, a theme which surfaces again and again. Jesus has marketplace power because of his personal time with God (4:42 also suggests his withdrawal to spend quiet time with God). For Jesus, marketplace power comes from mountaintop prayer. This subtheme is consistent with Luke's emphasis on prayer. Jesus was powerful because he was in contact with the source of power. One can only wonder if we are sometimes powerless we because we are not in regular contact with the source of power.
Luke's emphasis on prayer is visible in Jesus' prayers before and during major activities or events in his life (today's text in 5:16; the selection of the Twelve in 6:12; 9:18 before Peter's confession, 9:28-29 before the Transfiguration, 11:1, 22:32-41 in Gethsemane, 23:34,46 on the cross). How would our lives change if we were more prayerful? When have you prayed all night? When have you prayed before major events in your life? How did it turn out? When have you failed to pray before major events? How did it turn out?
Prayer
Heavenly Father, we want to walk more closely with you; we ask you to bring us closer to you today. Help us follow through on our desire for daily contact, relationship and fellowship with you. Encourage us with your power as we depend on you. Thank you for your presence in our lives. We pray through Jesus, the One who makes our relationship with you possible, Amen.
---


http://www.bobyoungresources.com/devotionals/03-luke5_mountain-power-for-marketplace.htm Last updated January 2019