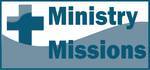 Luke 4: Fresh Beginnings
by Bob Young
[permission is given to reprint with credit noted]
Reading: Luke 4
Text
And Jesus returned in the power of the Spirit to Galilee, and a report about him went out through all the surrounding country. And he taught in their synagogues, being glorified by all. And he came to Nazareth, where he had been brought up. And as was his custom, he went to the synagogue on the Sabbath day, and he stood up to read. And the scroll of the prophet Isaiah was given to him. He unrolled the scroll and found the place where it was written, "The Spirit of the Lord is upon me, because he has anointed me to proclaim good news to the poor. He has sent me to proclaim liberty to the captives and recovering of sight to the blind, to set at liberty those who are oppressed, to proclaim the year of the Lord's favor." And he rolled up the scroll and gave it back to the attendant and sat down. And the eyes of all in the synagogue were fixed on him. And he began to say to them, "Today this Scripture has been fulfilled in your hearing." (Luke 4:14-21)
Reflecting and Thinking
Luke 4 begins with the story of Jesus' temptation. It is likely that this narrative more properly attaches to the identity stories of chapter 3. Regardless, Luke 4 provides us the beginning point of Jesus' ministry. He will serve in the power of the Spirit to fulfill Old Testament prophecy. His message will not be accepted by all, and will generally be rejected by religious leaders. What an interesting turn of events!
Jesus teaches-preaching good news, proclaiming freedom and sight, proclaiming the Lord's favor. He casts out evil spirits and heals the sick. He preaches, because that is why he came: "I must preach the good news of the kingdom of God to the other towns as well; for I was sent for this purpose."
If you were going to begin a new ministry, how would you begin? Would you go to already existing churches? Would you go to religious people or to non-religious people? What would you teach? What would you proclaim? Jesus' ministry model breaks many of our preexisting molds. He faces immediate persecution, yet is admired, accepted, and sought by the most unlikely. He refuses to "locate", answering the call to preach in every place possible.
What other dynamics can you identity in this narrative of the beginnings of Jesus' ministry?
Prayer
Heavenly Father, in our heart of hearts, we want to serve and minister and make a difference. We want to touch lives, but many times we do not know where to begin. We marvel at the example of Jesus, and want to know how to follow him more closely. Empower us afresh with your Spirit. In the name of Jesus, Amen.
---


http://www.bobyoungresources.com/devotionals/03-luke4_fresh-beginnings.htm Last updated May 27, 2011