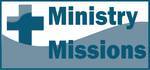 Luke 3: Yes, This is He!
by Bob Young
[permission is given to reprint with credit noted]
Today's Bible Reading: Luke 3
Selected Biblical Text
Now when all the people were baptized, and when Jesus also had been baptized and was praying, the heavens were opened, and the Holy Spirit descended on him in bodily form, like a dove; and a voice came from heaven, "You are my beloved Son; with you I am well pleased." (Luke 3:21-22 ESV)
Reflecting and Thinking
A certain humor begins this chapter. We get one more look at a list of the movers and shakers who live in the places where things are supposed to happen. But the most important thing that is happening is not happening in the palaces among kings, governors, tetrarch and sub-governors, nor among the high priests and religious leaders. The thing Luke wants us to notice is happening in the countryside and desert.
John the Baptist prepares the way for Jesus by saying one thing: "He is the One!" Jesus is baptized, and one heavenly declaration summarizes the event: "You are my Son whom I love; with you I am well pleased." Jesus begins his ministry, and Luke clarifies once more the heritage of Jesus through a genealogical list which concludes: "...the son of Adam, the son of God."
How would it have felt to have been there? Wouldn't it have been fun to catch a glimpse of what was occurring -- the irony of God working in seemingly unimportant places through unknown people, not through people of renown, but through a simple message that appealed to the large crowds who responded to the hope which resounded in the message: crowds which included tax collectors and soldiers and many others, all wanting to change their lives. As always, some didn't want to change. The message was temporarily stifled but not silenced by the imprisonment of John the Baptist.
God, help me be among those who want to change!
Prayer
Dear God, thank you for the certainty with which you introduced Jesus to this world -- Old Testament prophecy was confirmed with clear declarations and evidence of his identity. Some days it is easy to wonder; days of doubt diminish my ability to live a changed life. Strengthen me in difficult days and help always my unbelief. Help me live life today in full belief in Jesus, in Jesus' name, Amen.
---


http://www.bobyoungresources.com/devotionals/03-luke3_this-is-he.htm Last updated January 2019