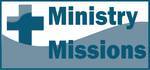 Luke 23: Into the Father's Hands
by Bob Young
[permission is given to reprint with credit noted]
Today's Bible Reading: Luke 23
Selected Biblical Text
It was now about the sixth hour, and there was darkness over the whole land until the ninth hour, while the sun's light failed. And the curtain of the temple was torn in two. Then Jesus, calling out with a loud voice, said, "Father, into your hands I commit my spirit!" And having said this he breathed his last. Now when the centurion saw what had taken place, he praised God, saying, "Certainly this man was innocent!" And all the crowds that had assembled for this spectacle, when they saw what had taken place, returned home beating their breasts. And all his acquaintances and the women who had followed him from Galilee stood at a distance watching these things. (Luke 23:44-49 ESV)
Reflecting and Thinking
Jesus' delivery into the hands of his enemies was temporary at best -- almost less than real -- for Jesus was always in the Father's will. The crucifixion narrative climaxes in today's text. Darkness came, the sun stopped shining, the curtain of the temple was torn, and Jesus made clear his dependence on the Heavenly Father: "Father, into your hands I commit my spirit." The centurion witnessed the events and stated his conclusion: "Surely this was a righteous man." Joseph of Arimathea, a member of the Jewish council and one who was waiting for the kingdom of God, took care of the details of Jesus' burial. We can rest secure in the knowledge that Jesus has been delivered into the Father's hands, not into the hands of evil men. We rest secure, and wait!
How are the events of this chapter a validation of the identity of Jesus? (Remember that he has not yet been resurrected.) How aware do you think Jesus was of the Father's constant care during this time? How does it make you feel to know that you are resting in the Father's hands?
Prayer
Dear God, help us sense your everlasting arms beneath us, help us know that your hands surround and support us. May we know your presence more fully. Buoy our spirits in difficult days as we turn to you. Thank you for the example of Jesus, for the privilege of approaching your throne in his name and by his authority, and for the certainty that you hear us, Amen.
---


http://www.bobyoungresources.com/devotionals/03-luke23_into-the-fathers-hands.htm Last updated January 2019