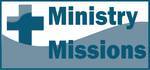 Luke 12: Interpret the Times--Discern what is Right
by Bob Young
[permission is given to reprint with credit noted]
Reading: Luke 12
Text
He also said to the crowds, "When you see a cloud rising in the west, you say at once, 'A shower is coming.' And so it happens. And when you see the south wind blowing, you say, 'There will be scorching heat,' and it happens. You hypocrites! You know how to interpret the appearance of earth and sky, but why do you not know how to interpret the present time? And why do you not judge for yourselves what is right? As you go with your accuser before the magistrate, make an effort to settle with him on the way, lest he drag you to the judge, and the judge hand you over to the officer, and the officer put you in prison. I tell you, you will never get out until you have paid the very last penny." (Luke 12:54-59)
Reflecting and Thinking
Luke 12 is the second of three consecutive chapters of Jesus' teachings. (Look at all of the red letters!) Each chapter contains several smaller thought sections. "Be careful about false teaching, do not be afraid of those who oppose you, be on your guard against greed, do not worry, be watchful and ready, be wise and discern what is right." Each of these admonitions provides instruction for the spiritual battle introduced in the previous chapter. Luke emphasizes the Holy Spirit and spiritual realities. This theme runs through Luke as a thread, but in this teaching section, it is as though Luke develops an entire tapestry which shows how spiritual realities intersect daily life.
How often do you think about spiritual things in an average day? Make a list of areas of life that should be included in a list of "spiritual concerns". (Make your list before you read on! Jesus' list includes at least the following: what we say and teach, hypocrisy, possessions or wealth, worry-especially about physical needs, inattention, short-cuts, family, priorities, reconciliation.) What does the idea of "interpreting the times" correctly mean to you? How does one do this? How can one go astray in this?
Prayer
Dear Father God, help us interpret the times correctly. Help us know and do what is right. In the pressure of daily life, it is easy to lose sight of spiritual realities. It is easy to let down our guard and let things slip. Help us develop the spiritual side of our lives, so that we focus on spiritual, eternal matters more than on physical, mundane concerns. We are grateful for the privilege of prayer, and we approach your throne in the name of Jesus, Amen.
---


http://www.bobyoungresources.com/devotionals/03-luke12_discern-what-is-right.htm Last updated June 3, 2011