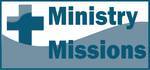 Mark 9: Following Jesus Is Not Easy
by Bob Young
[permission is given to reprint with credit noted]
Reading: Mark 9
Text
30 They left that place and passed through Galilee. Jesus did not want anyone to know where they were, 31 because he was teaching his disciples. He said to them, "The Son of Man is going to be delivered into the hands of men. They will kill him, and after three days he will rise." 32 But they did not understand what he meant and were afraid to ask him about it. (Mark 9:30-32)
Reflecting and Thinking
Three major themes are now interacting in Mark's Gospel: the identity of Jesus (especially focused in the identity stories), the confrontation with the Jews which will result in his death (remember the confrontation stories), and discipleship (illustrated by the follower stories). Intermingled with these three major concepts are other secondary storylines: fear, faith, secrecy, and touch which is related to the unclean/clean theme.
At the Transfiguration, we see these clearly. Three of Jesus' closest followers are with him; the voice from the cloud identifies Jesus as God's beloved Son; Peter is afraid; Jesus commands secrecy until after his resurrection. In the next story, fear and faith exist side by side in the father: "I believe, help me overcome my unbelief."
Today's text contains the second passion prediction, and also reflects the lack of understanding and fear of the disciples. The remainder of the chapter (and the first part of chapter 10) is a sequence of follower stories, focusing various aspects of what it means to follow Jesus.
How do you think you would have responded had you been at the Transfiguration? When have you identified with the father in the story of the son with the evil spirit, experiencing the existence of faith and unfaith side by the side in your life? Why did the disciples not understand Jesus' teachings about his impending death? Which of the "follower principles" reflected in this chapter is most difficult for you-pride/humility, service/prestige, judging/accepting, priorities and influence?
Prayer
Dear God, we again pray for increased faith. We want to be faithful followers, and we ask for your strength so that we might accurately reflect the priorities and heart of Jesus in our own lives. Teach us His ways. We pray in Jesus' name, Amen.
---


http://www.bobyoungresources.com/devotionals/02-mark9_following-jesus-not-easy.htm Last updated August 16, 2011