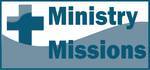 Mark 5: Who can follow Jesus?
by Bob Young
[permission is given to reprint with credit noted]
Today's Bible Reading: Mark 5
Selected Biblical Text
18 As Jesus was getting into the boat, the man who had been demon-possessed begged to go with him. 19 Jesus did not let him, but said, "Go home to your own people and tell them how much the Lord has done for you, and how he has had mercy on you." 20 So the man went away and began to tell in the Decapolis how much Jesus had done for him. And all the people were amazed. (Mark 5:18-20 NIV)
Reflecting and Thinking
Who can follow Jesus? The answer may surprise us. Does Mark purposefully include stories about those who are religiously or ceremonially unclean according to the teachings of the Jews? Is there any significance in including the "unclean stories" of a man who lives among the dead and is possessed by evil or unclean spirits, of a hemorrhaging woman, of a dead girl? Can people the world considers unclean and unfit still follow Jesus today? Can people the church considers unclean and unfit still follow Jesus today? Or is it only those who have already escaped most of the world's problems that make fit church members?
Jesus comes into the world touching the untouchable. He interacts with the undesirable, and the religious leaders question his acceptance of sinners. Perhaps in our evangelistic efforts we are looking in the wrong places! The man in our text left Jesus and began to tell everyone what Jesus had done for him. Perhaps we are also telling the wrong story! What has Jesus done for you?
What percentage of the members in the church where you attend are from what could be described as the "bottom" of society -- those whom many people consider "hands off"? In your opinion, could this be evidence that the U.S. church has practiced selective evangelism? How do you explain that Jesus appealed to the poor and that the contemporary church hardly has any interaction with the poor? What could the church do to increase its outreach to those people our society considers "unclean"?
Prayer
Heavenly Father, help us see our world through your eyes. Help us overcome our biases and prejudices, help us notice the people Jesus would touch if he were walking in our shoes. Lift up our eyes to the harvest. Give us opportunities to speak for Jesus, and give us boldness to walk through the doors you open. Through Jesus we pray, amen.
---


http://www.bobyoungresources.com/devotionals/02-mark5_who-can-follow-jesus.htm Last updated January 2019