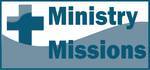 Mark 16: Fear or Faith?
by Bob Young
[permission is given to reprint with credit noted]
Today's Bible Reading: Mark 16
Selected Biblical Text
1 When the Sabbath was over, Mary Magdalene, Mary the mother of James, and Salome bought spices so that they might go to anoint Jesus' body. 2 Very early on the first day of the week, just after sunrise, they were on their way to the tomb 3 and they asked each other, "Who will roll the stone away from the entrance of the tomb?"
4 But when they looked up, they saw that the stone, which was very large, had been rolled away. 5 As they entered the tomb, they saw a young man dressed in a white robe sitting on the right side, and they were alarmed.
6 "Don't be alarmed," he said. "You are looking for Jesus the Nazarene, who was crucified. He has risen! He is not here. See the place where they laid him. 7 But go, tell his disciples and Peter, 'He is going ahead of you into Galilee. There you will see him, just as he told you.'"
8 Trembling and bewildered, the women went out and fled from the tomb. They said nothing to anyone, because they were afraid. (Mark 16:1-8 NIV)
Reflecting and Thinking
Today's selected text is the conclusion of the book of Mark in some manuscripts. It is a fitting conclusion -- fear remains until sight verifies the reality of Jesus' resurrection. The events are unbelievable -- until he appears. The reports of others are hardly enough. We want to see.
Through a combination of the manuscript evidence and the precedents of church history, almost all modern translations contain the "rest of the story" -- verses 9-20. Jesus appeared to his followers, gently rebuking them because they did not believe until they had seen him. We are so much like them!
Jesus commissions his followers to go forth proclaiming the gospel in the world, preaching belief and baptism for salvation of sins. Now there is no doubt. The tomb is empty! The disciples went out and preached the message everywhere!
On this day, which has the upper hand in your life -- fear or faith? What would it take to ease the fear and increase the faith? (Pray to God about this.) Many people today still want to see firsthand and experience God's power personally -- do you think Jesus would also rebuke them as he did the Eleven in verse 14?
How do you want to change your life after reading Mark's gospel? (Pray about your response in your personal prayer today.)
Prayer
Dear God, as we come to end of the Gospel of Mark, we ask you to change our lives according to the specific ways the message has touched our hearts during the last few weeks. We ask you to increase our faith and decrease our tendency to be afraid. Increase our faith, again we pray, in Jesus' name, Amen.
---


http://www.bobyoungresources.com/devotionals/02-mark16_fear-or-faith.htm Last updated January 2019