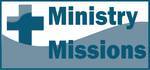 Mark 10: To Serve and to Give His Life as a Ransom
by Bob Young
[permission is given to reprint with credit noted]
Today's Bible Reading: Mark 10
Selected Biblical Text
41 When the ten heard about this, they became indignant with James and John. 42 Jesus called them together and said, "You know that those who are regarded as rulers of the Gentiles lord it over them, and their high officials exercise authority over them. 43 Not so with you. Instead, whoever wants to become great among you must be your servant, 44 and whoever wants to be first must be slave of all. 45 For even the Son of Man did not come to be served, but to serve, and to give his life as a ransom for many." (Mark 10:41-45)
Reflecting and Thinking
This chapter marks a transition in the Gospel of Mark. We could label Chapters 1-10 as Part One, and give it the heading, "Jesus' ministry." In the next chapter, the Triumphal Entry will mark the beginning of Part Two, "Jesus' death." While the third passion prediction (10:32-34) is an important part of today's reading, the chapter is better summarized as a series of "follower narratives." Being a follower of Jesus has an impact on our marriages; our families, our attitudes (become like little children, avoid the negative attitudes of the rich young man), and our desire for prominence. Becoming like Jesus leads us to a life of service and sacrifice.
It is worthy of note that two blind man stories (8:22 and 10:46) seem to frame the section of Mark that includes the three predictions of Jesus' death. Does this literary device, providing structure to the book, subtly raise the question of who can see and who cannot see?
Thinking about the contemporary church, how would you compare the number of people who are focused on becoming a servant with the number of those focused on becoming important? How can we imitate Jesus? How do we live out the teachings of today's reading? What does it mean to you to "see" in a spiritual sense? Thinking about the Gospel of Mark to this point, what could the disciples see and what could they not see? Who are some of those who have seen most clearly to this point in Mark's gospel?
Prayer
Dear God, on many days we know that following Jesus is not a simple matter. Some days, it is in fact very difficult. We want to be faithful followers; we want our commitment to Christ to be evident in every area of our lives. We want to be totally available for Jesus' work, withholding no part of our lives. Give us spiritual sensitivity and strength to follow in Jesus' footsteps. We pray in Jesus' name, Amen.
---


http://www.bobyoungresources.com/devotionals/02-mark10_serve-ransom.htm Last updated January 11, 2018