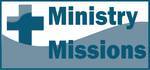 Matthew 8: Healing the Hurting
by Bob Young
[permission is given to reprint with credit noted]
Today's Bible Reading: Matthew 8
Selected Biblical Text
14 When Jesus came into Peter's house, he saw Peter's mother-in-law lying in bed with a fever. 15 He touched her hand and the fever left her, and she got up and began to wait on him. 16 When evening came, many who were demon-possessed were brought to him, and he drove out the spirits with a word and healed all the sick. 17 This was to fulfill what was spoken through the prophet Isaiah: "He took up our infirmities and bore our diseases." (Matthew 8:14-17 NIV)
Reflecting and Thinking
Today's text is part of the section that describes how Jesus came teaching, preaching and healing (compare 4:23 and 9:35). After teaching and preaching in the Sermon on the Mount, we might expect a series of healing stories. Matthew 8 gives us just that. Jesus cures a man with leprosy (8:1-4), heals the servant of a centurion (8:5-13), heals Peter's mother-in-law and also heals many others who were brought to him (8:14-17). In typical fashion, reminding us of the Jewish emphasis of this Gospel, Matthew observes that this is a fulfillment of prophecy, citing Isaiah 53:4. Later in the chapter, Jesus heals two demon-possessed men (8:28-34) and we find out that not everyone is happy with a Teacher who heals, especially if it threatens their sense of "normal" and their customary way of life. Not everyone is ready for a new "normal." Some people enjoy hurting -- some enjoy the attention and the focus on self.
How has Jesus "healed" your life? (Consider that healing may be physical, emotional, spiritual, and social, or that it may take various other forms.) Phrasing the question another way, how has Jesus made a difference in your life? What is he calling you to do for others today? How could you be his representative in touching, helping, and serving others? How could you imitate the one who came teaching, preaching, and healing?
Prayer
Dear Heavenly Father, we ask you to increase our faith, strengthen our commitment, and empower our ministry in the kingdom. Help us be more confident as we point others to Jesus, confident that he can heal their infirmities and change their lives. May we reflect the changed lives he makes possible, in Jesus' name, Amen.
---


http://www.bobyoungresources.com/devotionals/01-mt8_healing-the-hurting.htm Last updated January 2019