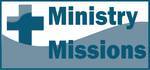 Matthew 4: From That Time--Teaching, Preaching and Healing
by Bob Young
[permission is given to reprint with credit noted]
Reading: Matthew 4
Text
17 From that time on Jesus began to preach, "Repent, for the kingdom of heaven has come near."
23 Jesus went throughout Galilee, teaching in their synagogues, proclaiming the good news of the kingdom, and healing every disease and sickness among the people. 24 News about him spread all over Syria, and people brought to him all who were ill with various diseases, those suffering severe pain, the demon-possessed, those having seizures, and the paralyzed; and he healed them. 25 Large crowds from Galilee, the Decapolis, Jerusalem, Judea and the region across the Jordan followed him. (Matthew 4:17, 23-25 NIV)
Reflecting and Thinking
Matthew's Gospel has several interesting literary characteristics. We have already mentioned the parallel between 1:23 (God with us) and 28:20 (I will be with you always). Matthew also contains five major discourses (chapters 5-7, 10, 13, 18, 24-25). We will say more about these in a future reflection. Matthew also divides the ministry of Jesus into two sections by the repeated phrase, "from that time onů." (4:17 and 16:21). These verses suggest that Jesus came teaching, preaching and healing, and then that Jesus came dying. These provide a significant structural frame for Matthew's description of the Messiah. The Jews had certain Messianic expectations-the first of these may be only slightly inconsistent with their expectation of a political and militant king, the second is utterly impossible!
What should be the significance for a disciple of Jesus that he came teaching, preaching, and healing? What would we do that would make us like him? How are the actions of Jesus an indication of the presence of the kingdom? Based on today's text, why does the good news of the kingdom, the gospel of Jesus, not spread rapidly? What causes the gospel to spread? What kind of false expectations do people in the world have today about Jesus? What kind of false expectations exist in the church? How would you explain why Jesus came, assuming his actions explain why he came?
Prayer
Heavenly Father, we seek you again this day, wanting to know you better, affirming your presence in this world and in our lives, seeking your power that we might serve others. Help us imitate Jesus as we tell others good news and seek healing and help for the hurts of the world. Thank you for your word and its revelation of Jesus, in the name of the one who came teaching, preaching, and healing, Jesus the Christ, Amen.
---


http://www.bobyoungresources.com/devotionals/01-mt4_teaching-preaching-healing.htm Last updated October 13, 2011