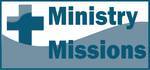 Matthew 28: Resurrected with All Authority -- Go Share the News
by Bob Young
[permission is given to reprint with credit noted]
Today's Bible Reading: Matthew 28
Selected Biblical Text
8 So the women hurried away from the tomb, afraid yet filled with joy, and ran to tell his disciples. 9 Suddenly Jesus met them. "Greetings," he said. They came to him, clasped his feet and worshiped him. 10 Then Jesus said to them, "Do not be afraid. Go and tell my brothers to go to Galilee; there they will see me."
16 Then the eleven disciples went to Galilee, to the mountain where Jesus had told them to go. 17 When they saw him, they worshiped him; but some doubted. 18 Then Jesus came to them and said, "All authority in heaven and on earth has been given to me. 19 Therefore go and make disciples of all nations, baptizing them in the name of the Father and of the Son and of the Holy Spirit, 20 and teaching them to obey everything I have commanded you. And surely I am with you always, to the very end of the age." (Matthew 28:8-10, 16-20 NIV)
Reflecting and Thinking
The good news is so good that it is unbelievable! Who would have thought it? Can it really be true? The first messengers of the resurrection are a small handful of women. They share the good news, the disciples believe, and in Galilee the eleven receive instructions which the church honors even until this day.
Go share the news! As you are going, wherever you go from day to day in your life, identify and teach others about discipleship, baptizing them, and teaching them obedience to the commandments of the King. In this task, Jesus remains present with his church. The resurrected King has all authority -- he is our power and our guide. He is our authority and our example.
We have finished our journey through Matthew. Matthew leaves no doubt about Jesus' identity. This book of Matthew, probably written in the last quarter of the first century, possibly to the Jewish community in Antioch, declares again and again the identity of Jesus. We can be fully assured of the truth. With this confidence, we go forth to proclaim the gospel. How would you rate the church's efforts in sharing the gospel today? Is the church doing poorly, less than desired, average, pretty good, or great? If you answered that the effort is average or below, how could the church become a more effective witness? (Remember to pray for the harvest and for workers.)
Prayer
Dear God, we want to tell the good news of Jesus more effectively and more powerfully. Help us know with confidence Jesus' presence in our lives as we accept this commission. Help us avoid distractions and doubt. May the gospel make a difference in our lives so that we can share it and make a difference in the lives of others. Again, we pray in Jesus' name, Amen.
---


http://www.bobyoungresources.com/devotionals/01-mt28_go-tell-the-news.htm Last updated January 2019