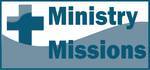 Matthew 27: The Son of God--Crucified
by Bob Young
[permission is given to reprint with credit noted]
Reading: Matthew 27
Text
50 And when Jesus had cried out again in a loud voice, he gave up his spirit. 51 At that moment the curtain of the temple was torn in two from top to bottom. The earth shook, the rocks split 52 and the tombs broke open. The bodies of many holy people who had died were raised to life. 53 They came out of the tombs after Jesus' resurrection and went into the holy city and appeared to many people. 54 When the centurion and those with him who were guarding Jesus saw the earthquake and all that had happened, they were terrified, and exclaimed, "Surely he was the Son of God!" (Matthew 27:50-54 NIV)
Thinking and Reflecting
The events of Jesus' final hours (chapters 26-27) tell a story of deceit and suffering-Gethsemane, the betrayal by Judas, Jesus' arrest, the trial before the Sanhedrin, the denial by Peter, appearance before Pilate, mocking, crucifixion, and finally, death. With a loud voice, Jesus died. The events the text describes in the next three verses provide evidence of heaven's disgust and power. The testimony of the centurion and those with him in verse 54 (another Jesus identity statement) is an unmistakable witness: Surely he was the Son of God!
Jesus was the Son of God! The cross is the story of the Son of God crucified. Jesus came dying in order that we might live. He came dying that we might be forgiven. How does this make you feel? What response do you wish to make to such love? What impact does this have on your faith?
Prayer
Father God, we hardly comprehend your all-surpassing love. We hear the story again and again, we seek to engrave it firmly in our minds, but some aspects of it escape us. Help us see more clearly, help us believe and be changed. In Jesus' name and by his power we pray, Amen.
---


http://www.bobyoungresources.com/devotionals/01-mt27_son-of-god-crucified.htm Last updated October 13, 2011