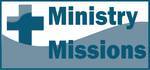 Matthew 1: God with Us--Savior and Messiah
by Bob Young
[permission is given to reprint with credit noted]
Today's Bible Reading: Matthew 1
Selected Biblical Text
18 This is how the birth of Jesus the Messiah came about: His mother Mary was pledged to be married to Joseph, but before they came together, she was found to be pregnant through the Holy Spirit. 19 Because Joseph her husband was faithful to the law, and yet did not want to expose her to public disgrace, he had in mind to divorce her quietly. 20 But after he had considered this, an angel of the Lord appeared to him in a dream and said, "Joseph son of David, do not be afraid to take Mary home as your wife, because what is conceived in her is from the Holy Spirit. 21 She will give birth to a son, and you are to give him the name Jesus, because he will save his people from their sins." 22 All this took place to fulfill what the Lord had said through the prophet: 23 "The virgin will conceive and give birth to a son, and they will call him Immanuel" (which means "God with us"). 24 When Joseph woke up, he did what the angel of the Lord had commanded him and took Mary home as his wife. 25 But he did not consummate their marriage until she gave birth to a son. And he gave him the name Jesus. (Matthew 1:18-25 NIV)
Thinking and Reflecting
Matthew is one of three Synoptic Gospels (the others are Mark and Luke). Matthew is unique because of its Jewish background --numerous Old Testament quotations, prophetic notes, and fulfillment statements. The Synoptic Gospels can be outlined with three major sections: (1) identity stories that introduce the gospel, (2) the ministry of Jesus (including three predictions of his death), and (3) the events of the Last Week (beginning with the Triumphal Entry and concluding with the Resurrection) with a brief description of the time between the Resurrection and the Ascension.
Today's chapter introduces Matthew's identity stories. The reading says something about who Jesus is. In Matthew, the identity stories appear in the first four chapters and include a genealogy, Jesus' identity as Jesus-Immanuel-Christ, a section that contrasts two kinds of kings, the "Son out of Egypt" prophecy, his baptism, and his temptation.
The name Jesus signifies "Savior." What do you think of when you think of salvation? What did the Jews think of or anticipate (for example, deliverance from oppression by other nations)? Today's text refers to "salvation from sins." Contemplate the importance of the name "Jesus" and try to connect the name with the concept of salvation more often when you hear it or read it. The name Immanuel means "God with us." What does it mean to you that God is with us through Jesus? Contrast this passage from Chapter 1 with the Great Commission in Chapter 28 when the disciples wonder if Jesus' departure will mean that God will no longer be present with them. (Jesus' promise in the last words before his ascension is that he will always be with them.) The designation Christ in 2:4 (Christ is the Greek word, Messiah in Hebrew, anointed in English) suggests another aspect of Jesus' identity. What does it mean to you that Jesus is the "anointed one?" Considering that Matthew's description of Jesus is sometimes summarized as "Servant King," how do these various descriptions connect with his royalty?
Prayer
Dearest Father, God, help me understand more clearly the identity of Jesus. Help me not to take for granted the meanings that are communicated when he is called Jesus, Immanuel, or Christ. Thank you for salvation through him, thank you for being with me on this earthly pilgrimage, thank you for his conquest and his Kingdom reign. Thank you most of all for giving me access to your throne through prayer in His name, as I raise this prayer in Jesus' name and by his power, Amen.
---


http://www.bobyoungresources.com/devotionals/01-mt1_god-with-us.htm Last updated January 2019