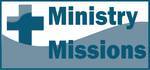 Matthew 17: Son of God -- God Speaks Again
by Bob Young
[permission is given to reprint with credit noted]
Today's Bible Reading: Matthew 17
Selected Biblical Text
1 After six days Jesus took with him Peter, James and John the brother of James, and led them up a high mountain by themselves. 2 There he was transfigured before them. His face shone like the sun, and his clothes became as white as the light. 3 Just then there appeared before them Moses and Elijah, talking with Jesus. 4 Peter said to Jesus, "Lord, it is good for us to be here. If you wish, I will put up three shelters-one for you, one for Moses and one for Elijah."
5 While he was still speaking, a bright cloud covered them, and a voice from the cloud said, "This is my Son, whom I love; with him I am well pleased. Listen to him!" 6 When the disciples heard this, they fell facedown to the ground, terrified. 7 But Jesus came and touched them. "Get up," he said. "Don't be afraid." 8 When they looked up, they saw no one except Jesus.
9 As they were coming down the mountain, Jesus instructed them, "Don't tell anyone what you have seen, until the Son of Man has been raised from the dead." (Matthew 17:1-9 NIV)
Thinking and Reflecting
By now we have come to expect affirmations of Jesus' identity in Matthew's Gospel. At the Transfiguration, God again speaks from heaven, affirming Jesus as his loved and well-pleasing Son. That Jesus' identity is not to be shared seems to connect with the necessity of his death so that he can fulfill God's plan. Would people respond to Jesus differently if they really understood who he is? Would we be changed by a clearer perception of Jesus? Would our friends and neighbors, cities and communities, nation and world be changed if the real identity of Jesus as God's Son was so clear as to be undeniable?
When have you seen Jesus' identity most clearly? Do you think people would believe if they heard a voice from heaven affirming Jesus as the only way? Why or why not? What could we as Christians do to make the message of Jesus clearer? Given that some do not believe in Jesus because they have never heard the gospel message, what could we do to help the message go to all who are willing to believe? (You might begin to answer this question by remembering Jesus' instruction to pray for the harvest and pray for workers in Matthew 9. Do not stop there. What could we do besides pray?)
Prayer
Father God, in Jesus' name and by his power we seek to make known the gospel. Give us wisdom and understanding to know how we can best advance the Kingdom around the world. We pray again today for the harvest and for workers. Because Jesus is the Christ, the Son of God, we come before your throne in his name and by his authority, Amen.
---


http://www.bobyoungresources.com/devotionals/01-mt17_son-of-god.htm Last updated January 2019