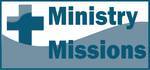 Matthew 14: Keeping the Mission in Focus
by Bob Young
[permission is given to reprint with credit noted]
Today's Bible Reading: Matthew 14
Selected Biblical Text
13 When Jesus heard what had happened, he withdrew by boat privately to a solitary place. Hearing of this, the crowds followed him on foot from the towns. 14 When Jesus landed and saw a large crowd, he had compassion on them and healed their sick. 15 As evening approached, the disciples came to him and said, "This is a remote place, and it's already getting late. Send the crowds away, so they can go to the villages and buy themselves some food." 16 Jesus replied, "They do not need to go away. You give them something to eat." 17 "We have here only five loaves of bread and two fish," they answered. 18 "Bring them here to me," he said. 19 And he directed the people to sit down on the grass. Taking the five loaves and the two fish and looking up to heaven, he gave thanks and broke the loaves. Then he gave them to the disciples, and the disciples gave them to the people. 20 They all ate and were satisfied, and the disciples picked up twelve basketfuls of broken pieces that were left over. 21 The number of those who ate was about five thousand men, besides women and children.
22 Immediately Jesus made the disciples get into the boat and go on ahead of him to the other side, while he dismissed the crowd. 23 After he had dismissed them, he went up on a mountainside by himself to pray. (Matthew 14:13-23a NIV)
Reflecting and Thinking
This chapter reflects a turning point in Jesus' ministry. We are about to move from increasing crowds to increasing doubt, from increasing popularity to increasing animosity. The death of John the Baptist touched Jesus deeply. John was a near relative as well as a friend, supporter, and herald. Jesus withdrew. When the crowds followed him, Jesus compassionately fed them. We know from John's Gospel that this event caused the crowds to want to crown Jesus as their king. Perhaps the disciples also bought into the idea, because verse 22 uses a strong word when it says Jesus MADE the disciples get into the boat. Once the disciples are gone, Jesus can more easily dismiss the crowd with their ill-conceived idea and plan.
There comes a time in every life (sometimes many such times come) when it is easy to get one's mission and purpose out of focus. Mission easily becomes fuzzy. Mission drifts. We forget why we are here and what we are to do. We are easily sidetracked, especially when others are pleased or served. We can justify a variety of detours.
After the events recounted in today's selected reading, Jesus comes walking to the disciples on the water and the disciples are terrified. The question surfaces again: Who is Jesus? Is this really Jesus? When all has calmed down, the validating affirmation should hit us full force: "Truly you are the Son of God" (14:33). Jesus is the one he claims to be! He is therefore able to do what God sent him to do. How sad would it be if Jesus were to get off-mission? How sad is it today when God's people get off-mission! Take time today to pray about what God is doing in your life and pray for clarity that you might understand his mission in your life.
Prayer
Dear God, keep us on mission in our Christian lives. So many good things beckon. Help us choose what is best. May we not be satisfied with being mediocre; may we not be satisfied with less than all you desire in our lives, in Jesus' name, Amen.
---


http://www.bobyoungresources.com/devotionals/01-mt14_kingdom-mission.htm Last updated January 2019