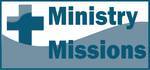 Matthew 10: Who Can Be a Follower?
by Bob Young
[permission is given to reprint with credit noted]
Today's Bible Reading: Matthew 10
Selected Biblical Text
32 "Whoever acknowledges me before others, I will also acknowledge before my Father in heaven. 33 But whoever disowns me before others, I will disown before my Father in heaven. 34 Do not suppose that I have come to bring peace to the earth. I did not come to bring peace, but a sword. 35 For I have come to turn 'a man against his father, a daughter against her mother, a daughter-in-law against her mother-in-law: 36 a man's enemies will be the members of his own household.'
37 "Anyone who loves their father or mother more than me is not worthy of me; anyone who loves their son or daughter more than me is not worthy of me. 38 Whoever does not take up their cross and follow me is not worthy of me. 39 Whoever finds their life will lose it, and whoever loses their life for my sake will find it." (Matthew 10:32-39 NIV)
Reflecting and Thinking
Today's chapter is the second major discourse (teaching section) of Matthew's Gospel. As Jesus sends out the Twelve, he gives them the instructions recorded in this chapter. The mission of the Kingdom will begin with the people of Israel -- preaching the kingdom, serving the sick and needy, sharing good news and blessings (verses 5-8). (Eventually the mission of the Kingdom will be expanded to include both Jews and Gentiles, but that detail is not included in today's reading due to Matthew's focus on the Jews.)
When the question of mission and outreach comes up, a companion question also arises: Who can be a follower? Matthew's concern in this chapter is not the inclusion of both Jews and Gentiles in the kingdom. Matthew's focus is on the necessity of owning Jesus, confessing faith, acknowledging Jesus, and being willing to pay the price of discipleship. These require establishing new priorities that may exclude the things and the people previously loved and cherished. Anything less is not acceptable. The result is a total redefinition of life. The old "normal" must be rejected -- the new "normal" must take over. That is the way of Jesus -- that is the way of the cross.
because of the severity of the requirements, passages such as today's text are often cast off as irrelevant and not applicable in today's world. Does following Jesus really require rejecting family? Does following Jesus really require the way of the cross -- the way of sacrifice and death to self? Is genuine life to be found by losing what we value in return for gaining what may appear to be little value? How does one square finding life to lose it and losing life to find it? These are not easy questions -- they are worthy of our thoughtful prayer this day. And finally, the ultimate question is not about who can be a follower. The ultimate question is whether I am a faithful follower!
Prayer
Dear Heavenly Father, we seek this day to find life abundant, genuine and full. We recommit ourselves to that goal, even as we are hesitant to take up our cross, we affirm that we are willing to follow wherever is necessary. We seek his righteousness and his way, in Jesus' name, Amen.
---


http://www.bobyoungresources.com/devotionals/01-mt10_who-can-be-follower.htm Last updated January 2019