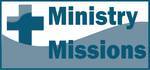 A Simple Idea for Small Group Interaction
by Bob Young
[permission is given to reprint with credit noted]
A few months ago I received an email concerning a Bible reading program which uses a new one-year Bible. The title intrigued me: "God Sightings: Learning to Experience God Every Day." The publicity material suggested we Christians can only get an accurate view of God and his world in the context of a faith community. Certainly, a healthy faith community makes it easier to see God and his world than in our isolation and aloneness. God intends us to go through life together. One way we do that is to share with other Christians our own spiritual journey. Three ways of doing that come to mind. First, we can encourage and help others by sharing what God is showing us through our reading of his word. Second, we can build one another up by sharing what we are grasping in our personal prayerful meditation and reflection on that word. Third, we can encourage one another by sharing God work and activity in our daily lives.
Since it is difficult to do these things in the context of our assemblies, small groups provide an opportunity to share, to support, and to serve one another. In a transparent, non-threatening, spiritually-focused group, I can find fresh enthusiasm and appreciate the mutual accountability Christians share. Recent surveys show that few North American churches have any plan for mutual accountability. Opportunities to share the insights of my Bible study, my prayerful meditation, and my God-focused life encourage me to so live that I have something to share.
To help reach these goals, I suggest a very simple approach to small group study and interaction. Let each group decide together to read a certain section of the Bible, preferably divided into daily readings, with a commitment to share together at the next group meeting the following: (1) things I noticed in my Bible reading, and why they were noticed or important, (2) applications and reflections that were new to me, and (3) how God is working in my life, especially in the context of this passage.
---


http://www.bobyoungresources.com/smallgroups/small-groups_god-sightings.htm Last updated February 23, 2011