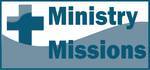 Ministry: How Can Ministers Meet the Community?
[Alternate Title: Personal experiences from the "For What It's Worth" Category]
by Bob Young
[permission is given to reprint with credit noted]
I was standing at the back door after preaching-I was talking to those who were passing by me as they left the church building. Zion and his friend almost got by me unnoticed. I reached out just in time, and met a couple who lived in the neighborhood and were visiting the church.
I was in my office; the secretary was helping a benevolence case. As I heard the conversation turn to spiritual questions, I walked out to explain our children's worship and to issue a special invitation to Sunday's worship and fellowship meal.
I was glad I was in the office. The man came by looking for someone to study the Bible with. He had questions about baptism. He was looking for a church that taught what he found in Scripture. You can anticipate the rest of the story. We studied; he was baptized. Perhaps it would have worked out even if I had not been in my office and available--perhaps not.
I was in the office on my day off. A former member whose husband was struggling with health issues called to give the church an update on his condition. We talked for almost half an hour. She obviously needed a listening ear. I listened, she said thank you. I assured her we would pray. Ministry happened-it would not have been the same if she had only been able to leave a message.
There are many ways and many places to meet the community. I applaud (and perhaps envy) preachers who are super-extroverted and never met a stranger. But across 40+ years of ministry, I have been amazed at how many productive community contacts have come from those whom I met at the church building-people who came wanting counseling, those seeking help with a variety of personal problems, Bible study requests, benevolent needs, people who come to classes and worship, those who come with a friend or family member-to services, to Bible class, or just to drop by.
I have sought as many ways as possible to build relationships and to interact with neighbors and friends in the communities where we have lived and ministered. I have purposely gotten out the office to be where the people were. But if I had to boil it all down to one key factor, one thing more important than in any other, it would be this. My predictable presence in my office at the church building during typical working hours (and at other times) has brought me more contacts than any other thing. When people see my car, they stop. One member said that a friend in the community asked what was going on down at the church house. When the member inquired about the reason for the question, his friend said, "There are always cars down there." Indeed! A brother knows that the coffee pot is either on or can be quickly….a young couple stops by at 9:00 p.m. to talk about a relationship they know is not pleasing to God….a church member who needs a private moment of prayer and counseling is relieved when he sees my car….an elder stops by on the way to work….the phone rings to tell about an emergency surgery (I'm glad you're there…you could have called me at home…oh, I wouldn't bother you at home)….
I believe that one reason these contacts have been productive is that they represent people who feel comfortable coming to the church building to find spiritual hope and strength. I applaud the contemporary "come and see" efforts used by many churches, but if those efforts are not spiritually focused to reflect the spiritual help, hope, and home that the church is, they may not be as effective as hoped.
---


http://www.bobyoungresources.com/ministry/meeting-the-community.htm Last updated March 11, 2011