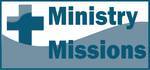 Communion Meditation: Fitted Together
by Bob Young
[permission is given to reprint with credit noted]
The church is "fitted together." This is the declaration of Eph. 4:11-16. We are a combination of body parts. Paul says it even more clearly in 1 Cor. 12. We are placed, combined, mixed, fitted together. It is easy to miss the proximity of this text to the teachings of Paul concerning worship and the Lord's Supper in 1 Cor. 10-11.
Activity: take your two hands and put them together in whatever way is normal for you, the way that is comfortable. Look at them. Note how they "fit together." Put them together in a different way. Note that they still fit together well. Now take the hand of a neighbor. Look at your two hands as they fit together.
What should we see? The Lord's Supper is a reminder that we are people who are fitted together by God, we are placed together by God. We are one body, we are each important, each significant, each needed. There are some who are a part of this body that are not able to be physically present today. They also fit in here.
The early church honored that truth by partaking of the bread and wine, and taking the leftovers which were considered blessed to the sick and infirm, the elderly, and the shut-ins.
Today we will partake of the Supper in a way that we know-it is familiar, common, habit. Today as we partake in the same method, let us seek that our minds and our spirits might be refreshed.
Let us be mindful of one another--remember that we fit together.
Let us be mindful of those fellow Christians who are not here.
Let us be mindful of Christ's presence.
---


http://www.bobyoungresources.com/communion-meditation_fitted-together.htm Last updated October 23, 2010.