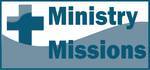 Communion Thought: Even the Sorry Ones
by Bob Young
[permission is given to reprint with credit noted]
Again and again I return to Luke 22 as a favorite text concerning the Last Supper. I am especially intrigued by the words of Jesus to the Twelve, "With great desire I have desired to eat this meal with you." Jesus knew that he would be betrayed. He predicted the denial of Peter. He predicted the scattering of the Apostles. Yet he wanted to eat with them; he wanted to spend time with them. I think I would have been ready to trade the original Twelve for a new set!
The early church assembled each week and surrounded a table to eat a meal that pictured the meal Jesus ate in that upper room with his closest followers. Jesus wanted to be with them; Jesus fellowshipped and ate with them all. These words remind us of several truths. Jesus is present in the Supper. All are welcome to come to the table--he wants to eat with all of his followers. The sorry ones (like Judas) are not excluded. Therefore, we do not come to this table because we deserve to come, nor are we excluded because we are undeserving. Jesusí words in Luke 22 remind us that we are all equal at the foot of the cross, present only by the grace of God. The church surrounds the table, and God wants all of his followers to be there each time--even the worst ones, even the sorry ones. That is indeed good news for us, because some days we are among the sorry ones.
---


http://www.bobyoungresources.com/articles/communion-meditation_even-the-sorry-ones.htm Last updated October 23, 2010.