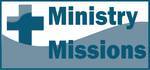 The Good Shepherd Provides Abundant Life
edited and posted by Bob Young
[permission is given to reprint with credit noted]
Today's Bible Reading: John 10
Selected Biblical Text
Therefore Jesus said again, "Very truly I tell you, I am the gate for the sheep. All who have come before me are thieves and robbers, but the sheep have not listened to them. I am the gate; whoever enters through me will be saved. They will come in and go out, and find pasture. The thief comes only to steal and kill and destroy; I have come that they may have life, and have it to the full. I am the good shepherd. (John 10:7-11 NIV)
Reflecting and Thinking
The words in today's selected reading were spoken to the Jews on behalf of a man who needed encouragement. Rejected, cast out, belittled and demeaned -- it seems that his healing from a life of blindness had gained him little. But then again, life is not to be measured in externals. Not everyone who is rich in this world's goods has an abundant life; in fact, surveys show that many rich people still feel that something is missing from their lives.
The question is not, "What are your circumstances?" The question is, "What will you do with your circumstances?" A blind man sees and believes. Jews who have a long history with God fail to see: "How long will you keep us in suspense? If you are the Christ, tell us plainly" (John 10:24). In a chapter where many remain in unbelief, the last verse of the chapter says "many believed." Read, think, understand. Familiar texts must be read more closely. What is going on here?
To what extent is it true that "we see what we want to see?" If you are among those who have seen and believed in Jesus, why do you believe? If you are among those who have not believed in Jesus, why do you not believe? Can we be honest with ourselves? Unless we are willing to answer questions like these, we may never experience abundant life -- life to its fullest.
Prayer
Thank you, Jesus, for your obedience to the Father. Thank you, God, for your loving sacrifice. Thank you, Holy Spirit, for your comforting guidance. My life is so much richer and sweeter because of the hope I have in you, Lord. I am glad that you have provided the way for me to have eternal life in your presence -- in a place where there will be no more tears and no more suffering; a place where there will be unimaginable joy, praise, worship, and peace. I praise you for who you are and for what you have done. In Jesus name, Amen.
---


http://www.bobyoungresources.com/devotional/good-shepherd-abundant-life.htm Last updated January 2019